Solid Surface Worktops
Solid surface worktops are becoming more and more popular in kitchens and bathrooms
Solid surface worktops are becoming more and more popular in kitchens, bathrooms, and other places around the house. SLiKTop Worktops is a company that specializes in solid-surface worktops. Slicktop Worktops has been making solid surfaces for decades now and has become an expert on all things related to them. They have the latest information about different types of finishes and materials used in manufacturing, as well as FAQs about everything from design flexibility to heat resistance. Below we will discuss what you need to know before you buy your next set of worktops.
Some of the Solid surfaces that we can supply and install are
Corian – Hi-Macs – Staron – Tristone – Hanex – Meganite – Wilsonart – Krion – Mirostone – Mistral – Velstone – Avonite
What is a solid surface worktop?
Solid surface kitchen worktops, also known as Corian® or Dupont™ Zodiaq®, are made up of natural quartz crystal and glass or acrylic polymer resins (the raw materials used to make the product), which is melted down at very high temperatures to form a liquid-like substance. This mixture is then poured onto a flat plate that spins horizontally, when this happens it spreads out evenly before being hit with cold air from underneath, this causes the material to cool extremely quickly into a solid sheet. When you look closely you can actually see small bubbles in the material just like when you heat up plastic in the oven!
The type of worktops that we are talking about here is an engineered quartz product. This means it's not natural stone, but a man-made material, such as laminate worktops . The main benefits of these types of surfaces include: Durability – virtually unbreakable and easy to maintain; Hygiene – can be easily wiped clean and requires no sealing or re-sealing; Style – fantastic range of colours and designs available; Cost-effective alternative to natural materials.
Solid surface has all the advantages of natural stone stone but not the limitations
We adore the finishes of natural stone as it offers heat resistance, retardant to flames, and its hygienic properties that come with it. Many customers find It's an ideal surround for sinks, worktops and cladding. But the main concern with some people is that stone can also break, become unrepairable, it's not always easy to get that perfect finish, and it does need some maintenance along the way. The difference with solid surface is the multiple advantages it offers the user over stone, things like, strength, durability and an almost clinical fresh feel to an area or project. Whether you are looking to create a residential or commercial kitchen, or bespoke designed and crafted office or reception area, it can be fabricated to your exact requirements and dimensions you are requiring. This control gives you so many more design solutions, including colour, texture and flexibility. You can incorporate seamless curves, bends and rolled edges, which would be impossible with stone. If you have a design in mind for your home or commercial premises, give us a call and we can craft your perfect space!
All of our solid surface manufacturers provide products that are designed to be non porous, antibacterial, versatile and eco-friendly. With a massive selection of worktop and countertop finishes in matts and high glosses. The same manufacturers will also provide prefabricated sinks that can merge seamlessly into each solid surface. They are ideal for your home kitchen, laboratories, restaurants, bars, nightclubs and commercial washrooms.
Here at SLiKTop Worktops What matters to us the most, is that our customers where domestic or commercial based receive the highest quality products and customer service, at the right price!
Call us now for your FREE Consultation and FREE Quotation
I assure you, we are friendly and easy to deal with, talk soon!
Main Benefits of solid surface for your kitchen worktop surface, commercial project, such as shop counters, commercial kitchens, hospitals and medical centres, basically anywhere a hard, clinically clean surface is required.
Repellant & Stain Resistant
Non-porous Surface
No surface germ or bacteria harboring
No sealing required
Easy to maintain & Keep clean
Can fabricate large sizes and designs seamlessly
Easy to repair
Vast range of colours from matt to high gloss
Can be manipulated and shaped into fantastic designs
Solid surface is such a versatile material. It can be utilised anywhere to great effect. It's widely used for domestic and commercial designs throughout the UK.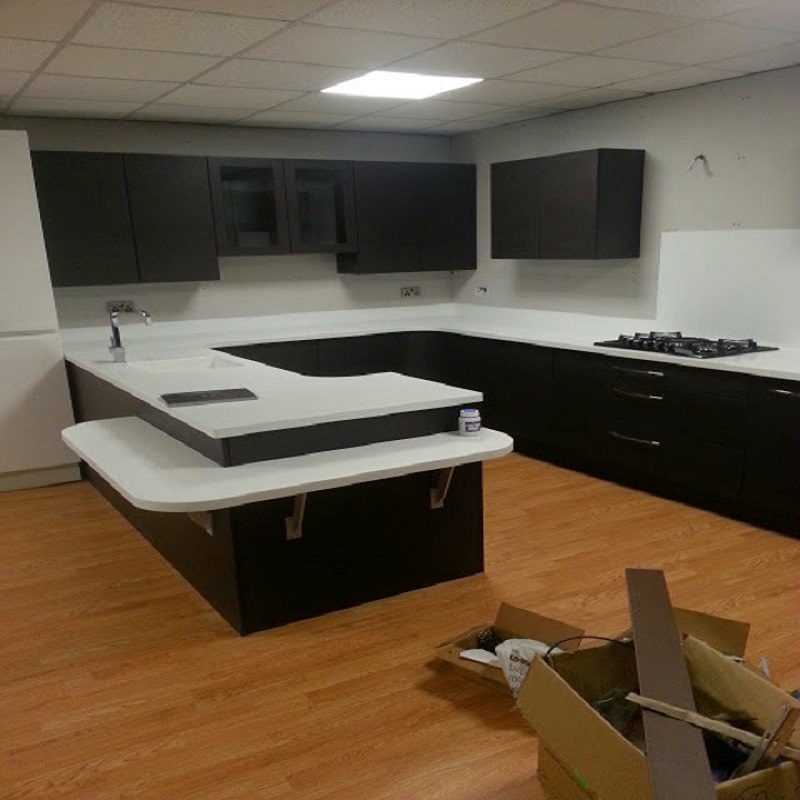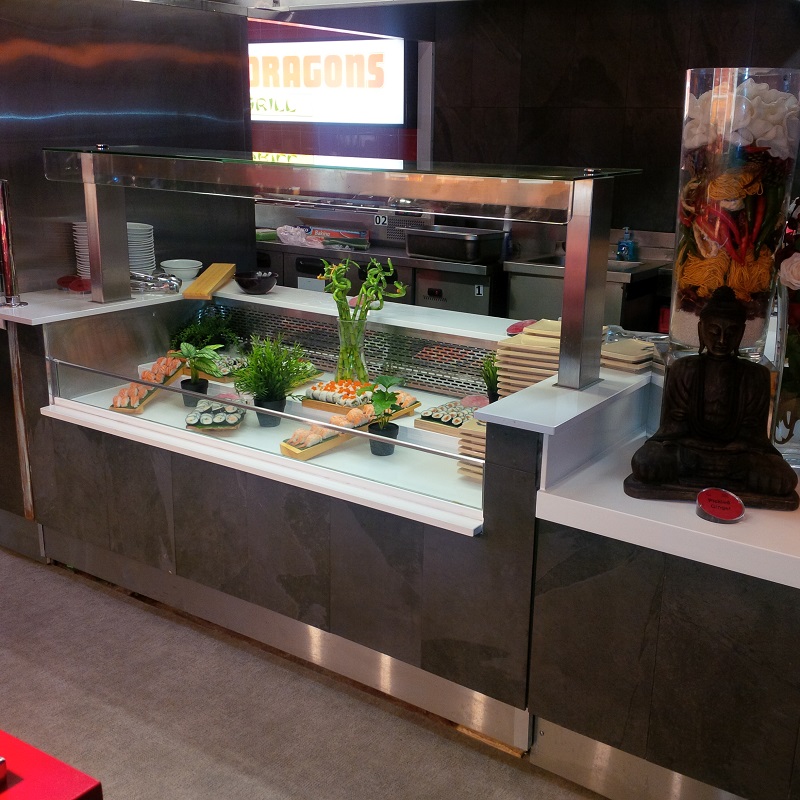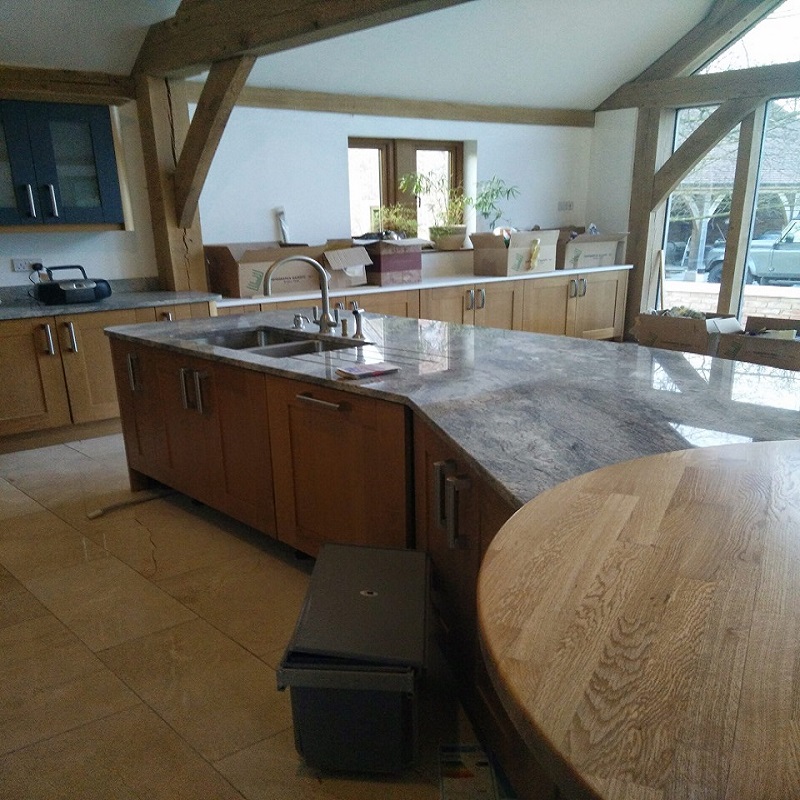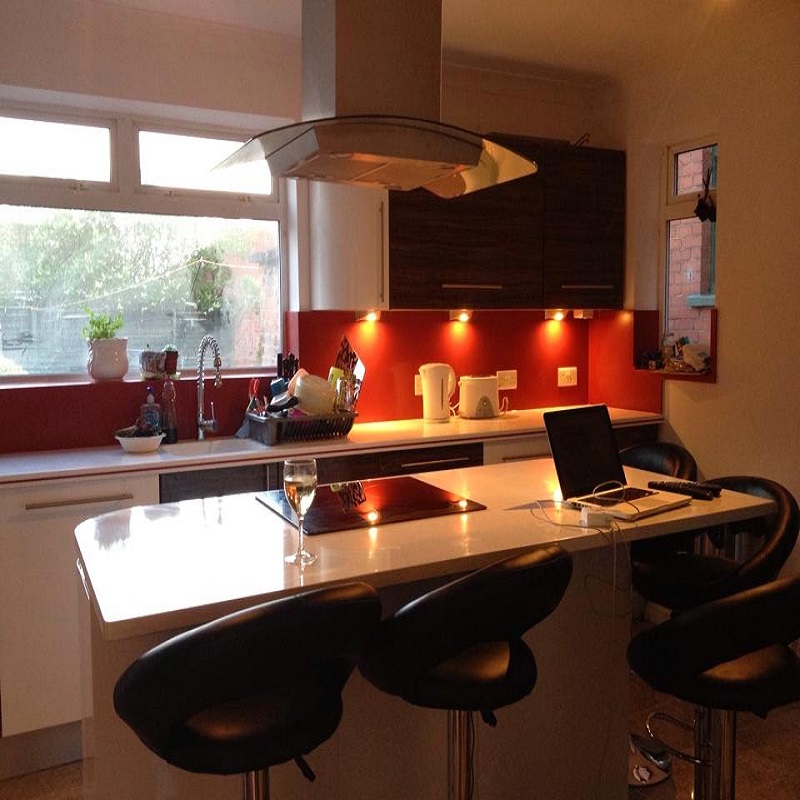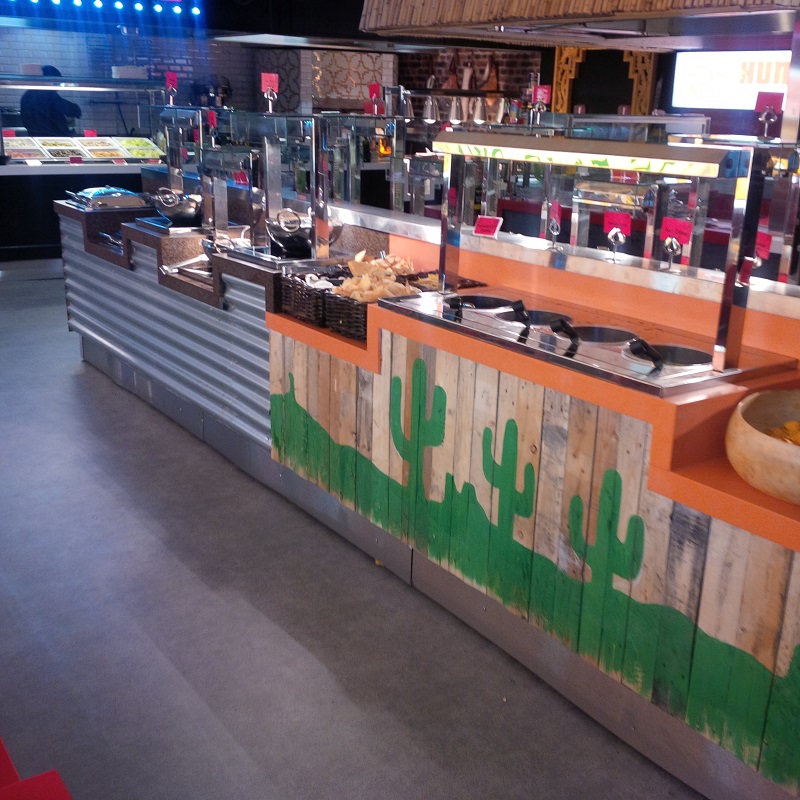 Are solid surface worktops worth the money?
The life expectancy of a solid surface worktop is generally much longer than that of natural stone or wood due to them being far less porous. This also makes care easier as liquids cannot seep into the material and cause it to swell in areas which can damage your worktops over time. Solid surface worktops are very resistant to staining and scratching because nothing gets absorbed by their surfaces. This means that you can use all manner of cleaning products on them without worrying about damaging their appearance over time. They are also resistant to heat up to approximately 200 degrees centigrade, so can be used for hot pans and dishes which you may not want to put your traditional worktops near.
Repairing Solid surface worktops
However, do bear in mind that solid surface worktops can be slightly more difficult to repair if they are damaged. Although nothing gets absorbed into the material it is sometimes possible for cracks and scratches to get trapped within the surface itself. In order for this not to happen make sure you use a cutting board when using knives on your worktop so as to avoid them chipping or cracking the surface underneath. Solid surface worktops are also very easy to install if you know what type of solid counter tops you would like in your kitchen or bathroom beforehand. Because there is no natural stone involved in their production it means they can be produced much easier than other types of surfaces and cut to size much more easily.
Other Benefits of Solid surface worktops
Better Strength/Durability
Solid surfaces are far more resistant to heat, burns and chipping than other types of kitchen worktop materials .
Heat Resistance
While traditional wood or laminate worktops would warp or discolour if you were ever to place hot pans on them ; solid surface kitchen worktops will not only take the heat but they won't be damaged in any way . This makes them especially advantageous for those with children.
Hard Finish
The hard shiny smooth finish of solid surfaces resists dirt and bacteria making them far easier to keep clean and hygienic than laminate or wood.
Is a solid surface worktop
It is created by combining resin with powdered pigments and fibres, this creates a strong rigid homogenous mass that can be produced in virtually any colour and pattern. The finished article is then bonded to a support such as plywood or MDF etc.
Frequently asked questions
HOW DO THEY MAKE SOLID SURFACE KITCHEN WORKTOPS?
Solid surface worktops are made with a combination of acrylic resins, pigments and fillers. These raw materials are blended together to create melted plastic which is then poured onto a mould in liquid form. Once the resin has cured it's heat treated before being cut into manageable slabs for fitting. It's this curing process which gives solid surfaces their exceptional strength and durability, far better than any other type of worktop material including granite or quartz which are very easily chipped.
AS A KITCHEN WORKTOP HOW DURABLE IS CORIAN?
Corian as a kitchen work surface is water and stain resistant, but the material is not as scratch or heat resistant as say Granite, Quarts or Dekton, but you can sand out light scratches easily.
WHAT COLOUR CORIAN?
It is available in a wide selection of colours – choose from bright hues for your modern style kitchens, while white works well to create space for architectural designs, and shades of pale colours look good for your traditional style kitchens. Try to stay away from dark colours in Corian because they tend to reveal and show scratches and marks more, especially in daylight.
Do you provide free site surveys?
We take pride in providing the best possible service to all our customers. So, if you've got any questions or need air conditioning advice, call us today for a free site survey!
WHAT TYPES OF SOLID SURFACE WORKTOPS ARE THERE?
The main types of solid surface that you can choose from include: Acrylic Resin – standard non-porous material; Polycarbonate Resins – multi-purpose material that is waterproof and very hard wearing; Polyester Resins – high solid sheet which has a durable gloss finish.
DOES CORIAN REQUIRE ANY INITIAL OR ONGOING TREATMENT?
Corian does not require an initial treatment. Cleaning with a standard soft cotton cloth and mild detergent will suffice. Anything more heavy sucha staining can be removed with a solution of diluted bleach.
How can I reduce energy costs?
Our engineers will be able to review your current set-up and show you ways of reducing heating bills.
Can I lease the system?
At Cool Hand Air Conditioning, we believe that quality should be affordable; our packages are flexible and competitively priced. We also offer finance schemes that may allow you to pay off your air-con system overtime at low monthly rates.
The Villahome Quartz range of surfaces is heat, stain and scratch resistant. It also has the added benefits of not being a material that requires sealing. Being a virtually maintenance free worktop surface it will keep it's elegant look. Also this non-porous material is a breeze to keep clean with just the use of soapy water and the application of mild detergent if needed.
All the VillaHome range of Quartz worktops can be tailor made and fabricated to match your very own personal design ideas and preferences. You have a large colour choice to choose from with a massive chart of 50 plus shades and hues. Sizes of slabs can be supplied and installed in the jumbo size which is 3200mm x 16000mm this allows for much more flexibility when designing large kitchens, with maybe Island worktops incorporated within the design. Thickness of the slabs come in at either 20mm or 30mm.
Villahome Quartz is especially recommended for the home environment as it does not harbor germs and bacteria as being a non-porous material, so great for preparing food in your kitchen, or any other area that you require a safe clean area. It can be used in bathrooms, commercial areas, such as large food preparation companies and retail shops. Truely a first class versatile work surface or countertop with multiple uses.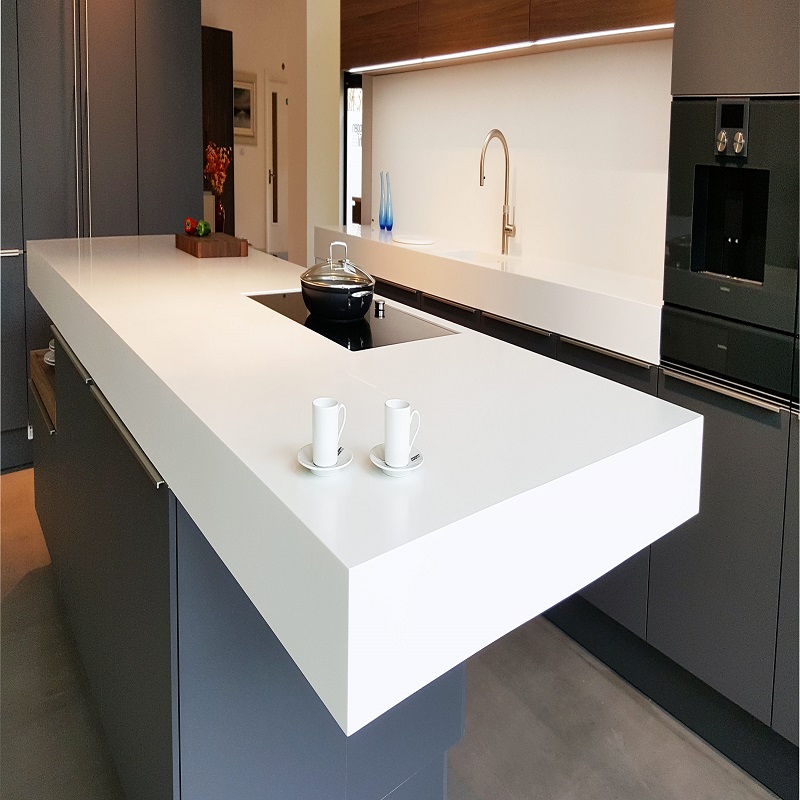 Thanks to their innovative composite of natural minerals and pure acrylic polymer, this worktop is backed by DuPont™ with a 10-year Limited Installed Warranty. The material can be thermoformed into any fabulous organic curve you desire; even make your island with seamless wrap around surface designs. You can have an engraved design on top or back lit LED lights shining through for some really stunning lighting effects at night time too – all without sacrificing the ease of cleaning or maintaining your kitchen surfaces. Designers love this space age material as do our customers.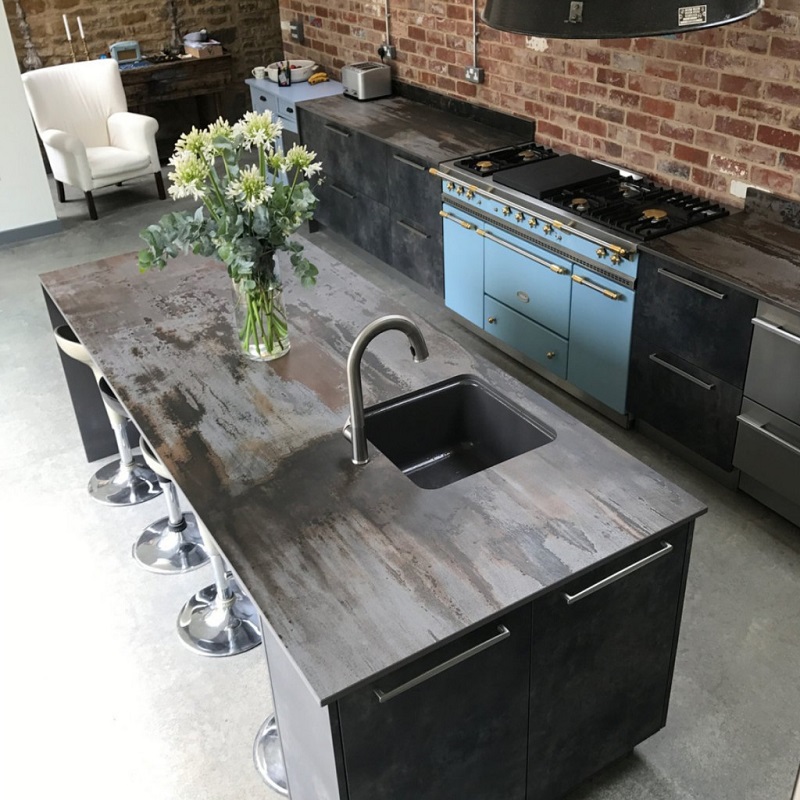 Dekton Worktops by Cosentino
This High-tech space age material is Highly resistant to stains and scratches, and even your red wine. This incredible surface can even take direct heat from your dishes and pans straight out of the hot oven. Dekton can be crafted and fabricated to whatever your designs require, and is available in multiple colours and finishes, including industrial matt, right up to high gloss mirror finishes. Dekton is a true innovation of a material which is a kitchen designer's dream!
Schedule An Appointment
Or Get an Instant Quote
Visit Us
Wakefield, United Kingdom
Message Us
hello@kitchenworktopswakefield.co.uk