Kitchen Worktops Wakefield
At SLiKTop Worktops, we are experts in all things worktops. We have been supplying and installing solid surface worktops for many years, and our experience means that we can help you find the perfect fit for your kitchen or bathroom. Whether you're looking for quartz worktops, granite worktops, or any other type of solid surface luxury kitchen worktop material. contact us today to find out more about what we have to offer!
We use laser templating to complement our CNC machinery so customers can have confidence in our precision cutting, we have invested heavily in our production to ensure we can keep to reasonable timeframes and to make sure all our equipment is of the highest quality.
We are your worktop experts in Wakefield, and we are committed to helping you find the perfect worktops for your home. We have been supplying and installing solid surface, quartz worktops, granite worktops in Wakefield for many years, so we know what works best!
We have been established in the Wakefield area for many years and offer not only expert advice but also an exceptional level of service, making sure that each customer is 100% happy with their purchase every time!
By working directly with our customers, we can ensure that you get exactly what you want at prices tailored to suit individual requirements.
We are passionate about providing high-quality worktops from leading manufacturers, combined with outstanding customer service. 
SliKTop Worktops will help you find exactly what it is you're looking for, whether it be quartz worktops, granite worktops or something else entirely.
We are dedicated to making sure that our customers are 100% happy with their choice of new kitchen or bathroom worktop. Our team will be on hand every step of the way, as well as offering a full installation service should you require it.
Whether you're looking for quartz worktops, granite worktops, or something else entirely, contact us today at SliKTop Worktops to discuss all your options with one of our experts. We would love nothing more than to help make your dream kitchen or bathroom a reality.
Kitchen Worktop – Add That Finishing Luxury Touch to your Kitchen or living area
The absolute finishing touch to any luxury kitchen is the worktop. If you choose Carefully it will add that wow! Factor and complement your new kitchen or even an existing kitchen makeover. Our team at SLiKTop Worktops will work together with you to make sure you select the right work surface for your environment, personal taste, and requirements. We will expertly guide you through all the different materials that we have on offer such as Quartz, Granite, and our selection of quality solid surface options that are currently available. We will take you through the pros and cons of each, so you will be confident in the knowledge that you have chosen the ideal product for your circumstances. Our wide range of vibrant colours and shades and finishes are sure to tempt you, and we can tailor a worktop solution to fit your budget and style!
Quartz is one of the most sought after materials when it comes to kitchen surfaces today. It's non-porous, so it doesn't absorb any liquid, making it extremely durable as well as heat resistant up to 200 degrees centigrade. We offer a range of quartz worktop colours, including black, grey, blue, and white – our granite worktop collection includes over 30 different designs, giving you an extensive catalogue from which to choose your perfect style!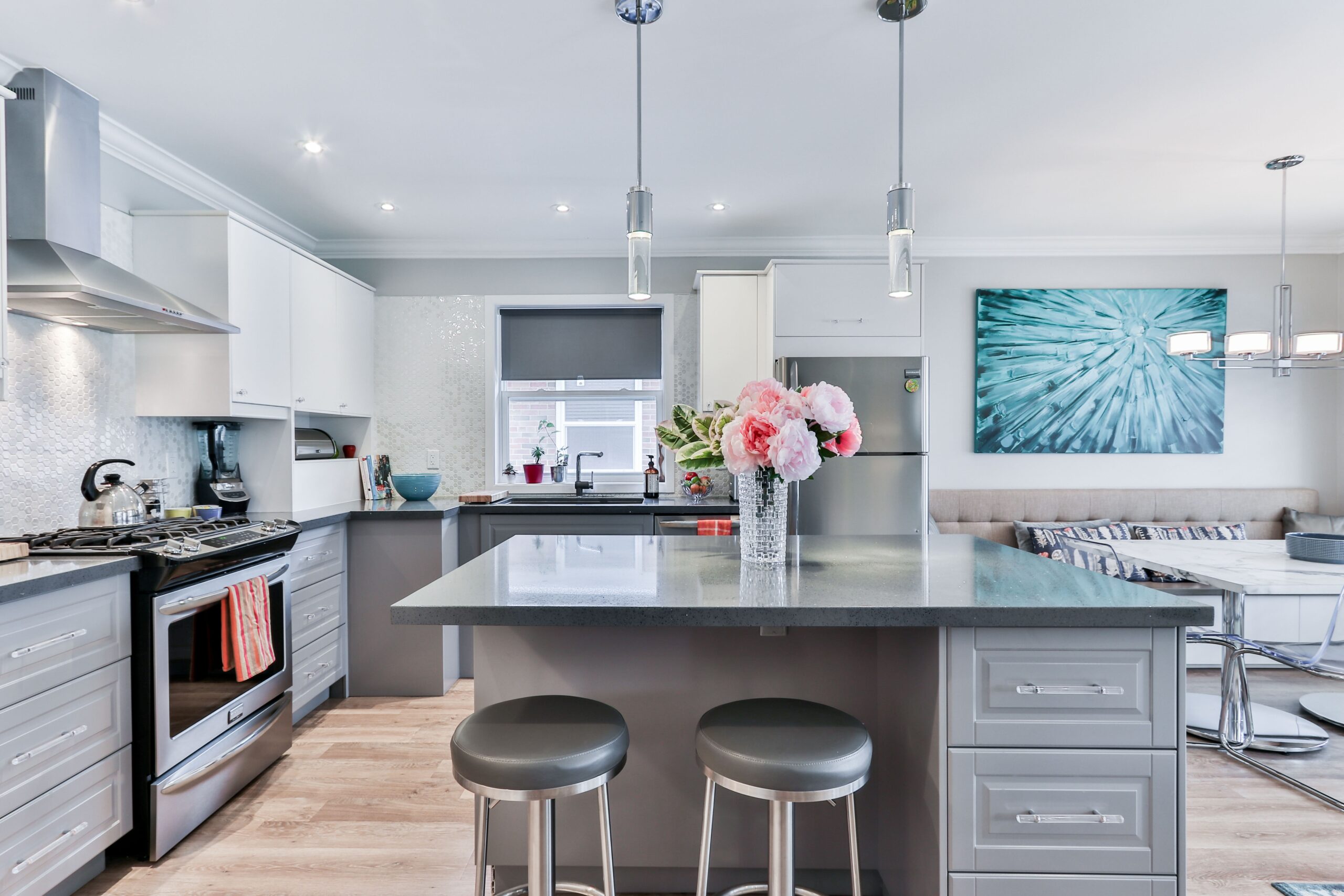 Solid surface worktops are of various types and can include Corian Worktops, Silestone Worktops, or Hanex Worktops. These are both versatile and long-lasting; they're also incredibly easy to clean, which makes them a popular choice for kitchens in homes with young children!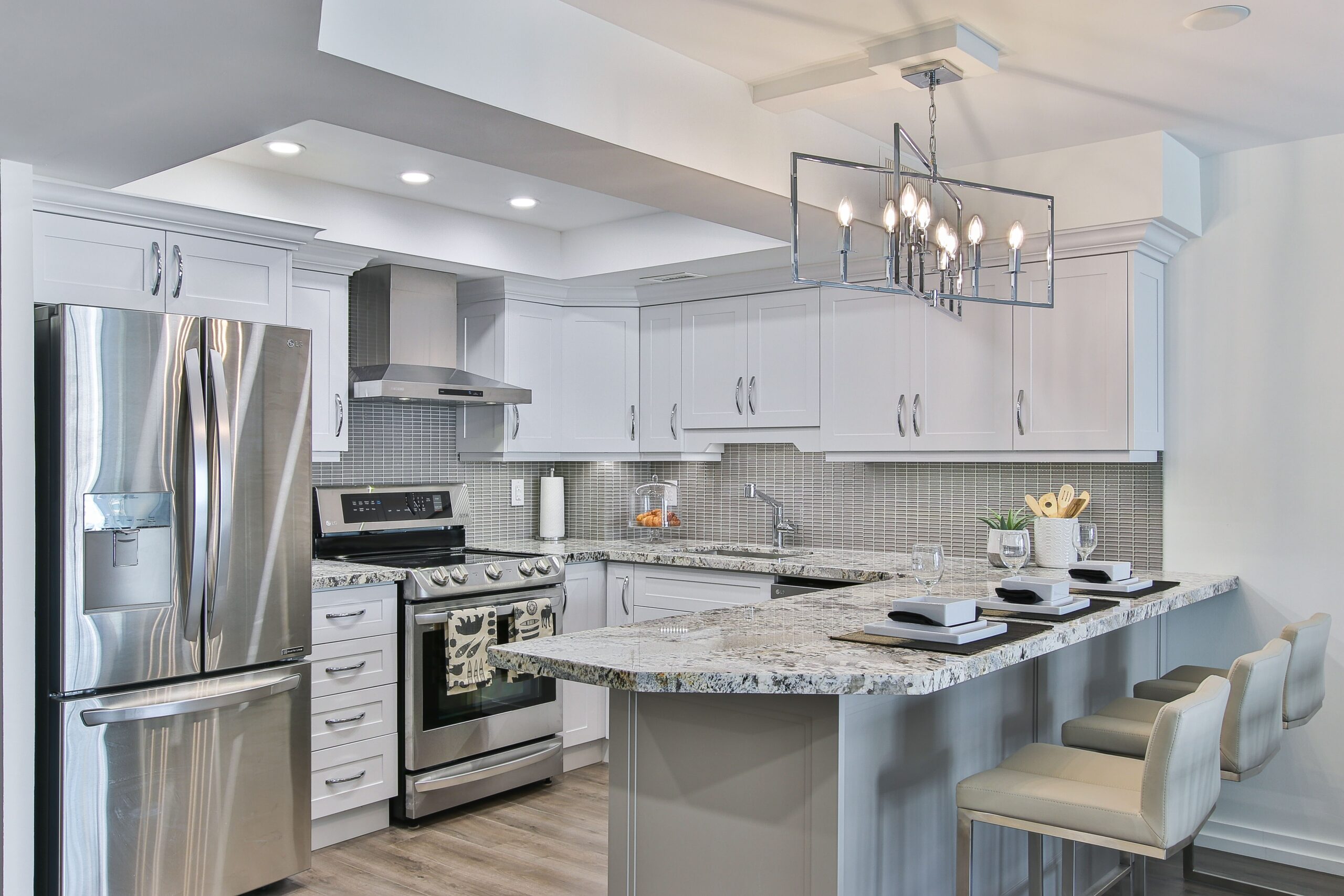 Granite is a natural stone that is quarried from the earth. It's often hailed as being one of nature's strongest materials and has been used for centuries to make some incredibly strong architectural structures, including bridges, buildings, and more! Granite worktops are incredibly durable, making them ideal surfaces in homes with busy families where spills can occur on an almost daily basis.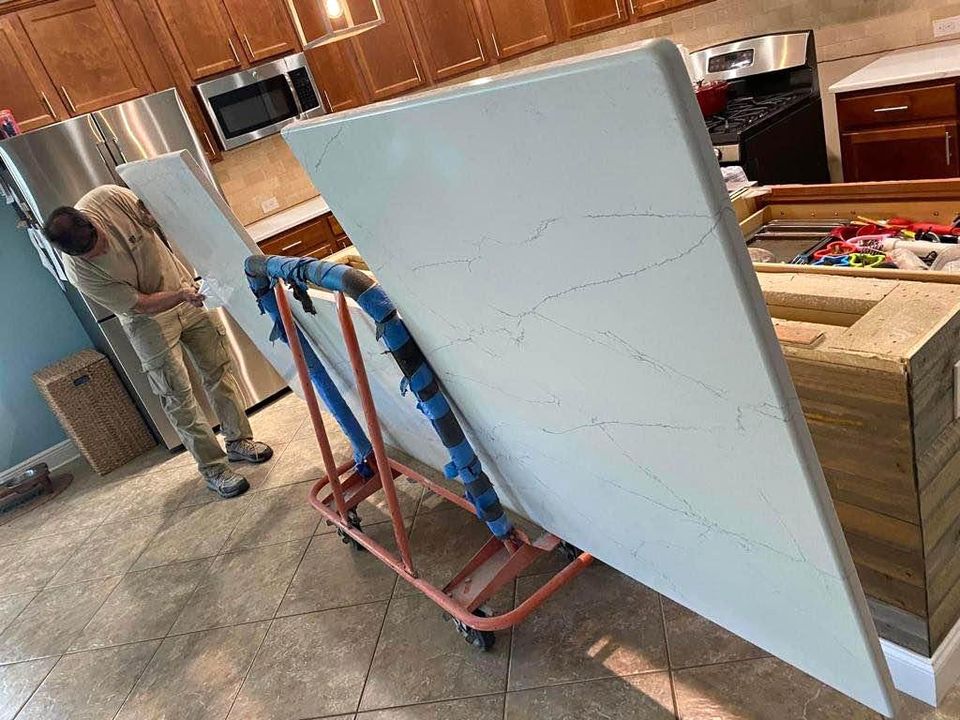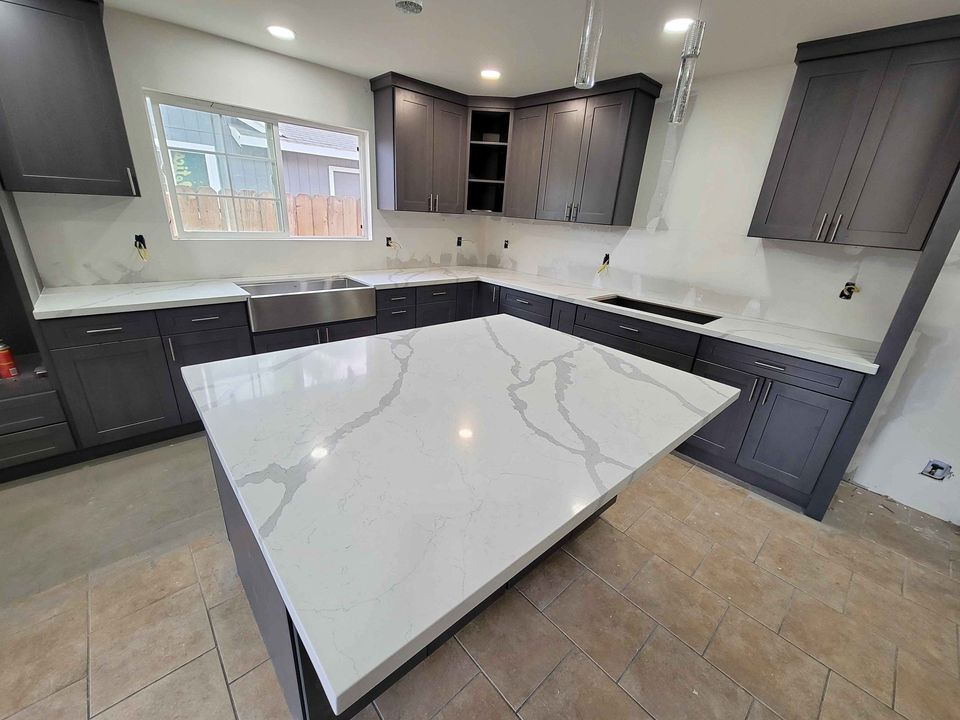 At SliKTtop Worktops, we are experts in all things worktops. We have been supplying and installing solid surface worktops for many years, and our experience means that we can help you find the perfect fit for your kitchen or bathroom. Whether you're looking for quartz worktops, granite worktops, laminate worktops, or something else entirely, contact us today to find out more about what we have to offer!
"During the renovation of our property, Sliktop Worktops really helped us with the finishing touches to our new kitchen area, and they couldn't have been more professional in assisting us in every aspect! We chose bespoke worktops in a Solid surface material, and they have been crafted and Installed to perfection. In Fact the kitchen is now my favorite room in the house. Andy came out to us, measured up what we needed and talked us through all our options. He took time with us to achieve the look and finish we were looking for. Afterwards one of his team came over and made a template to our specifications, he did a great job as the finished worktops fitted perfectly. My advice is don't go elsewhere as this is a good team of professionals. Best regards."
"Massive gratitude to everyone at Sliktop Worktops, Andy went out of his way to help me choose the right material and design for my new kitchen worktops. Granite looks fantastic now it's installed and matches the cabinets well. Andy was always available to listen and answer any questions that I had, together with reassurance as we went along. The day of the fitting and all my concerns were washed away as the kitchen worktops fitted like a glove. They were professional every step of the way, so I have no problem recommending Sliktop Worktops to anyone who needs this type of service."
"We have recently had new kitchen worktops installed by SlikTop Worktops in Wakefield and absolutely love them. From our initial phone enquiry right through to our quartz worktop installation, we have been nothing but amazed. We originally made contact during the lockdown period and the team was most helpful. We measured our template from guidance over the phone which we were worried about at first, but Andy popped round to double check before our quartz was cut to size. The fitters that came out to complete the final installation did a wonderful job too. It makes a change to see a company with old school values these days. Happy we chose them, full recommendation. "
Frequently asked questions
Can you just replace kitchen worktops?
Yes you can, and that is our specialty. Our clients do this to give their kitchen a refreshing look. The change a new worktop gives to your kitchen is remarkable, even without updating any other appliances! Contact us today.
How Do i Order Worktops From Sliktop Worktops?
If you want to order a worktop from us, you will simply need to choose a colour and an edge profile for your chosen material from our extensive range. We can then send out samples of the materials that are available so that you can see which one would fit in best with your desired finish. This is extremely helpful as it means that even if you have seen some other options elsewhere, there's no guarantee they'll match up perfectly!
What Can i Do To Help With The Installation Process?
We will require you to be there on the day of the template visit so we can measure your worktops and then you'll receive a call with an installation date. Worktop templates usually take about half a day's worth of time to complete depending on how big the property area is that's being worked on. It is always best if you're available for our templating team because they would like to be thorough with their measurements to ensure all results are 100% accurate where possible, but this isn't always necessary because some people might not be able to leave the site etc.
We will need you to arrange any additional trades such as plumbers yourself if required. However, we do have our own fully qualified joiners who carry outfitting services too, along with plumbing installations should they be required. Also, we will not be able to work on any electrical connections or appliance installations.
Can i Order a Sample Of The Materials?
Yes, we offer free samples of all our kitchen wall coverings so that before making your final choices about what goes into each room within your home, you can see how certain colours appear under different lighting conditions compared to others. This ensures that when installed by SliKTop Worktops, you will be completely happy with the final result!
Why Do You Have To Make a Temporary Visit?
This is to ensure that we can guarantee a perfect fit for your worktops. Worktop templating ensures all our products are cut and fitted as precisely as possible, taking into account any irregularities or bumps in the walls beneath them.
Will You Plumb My Sink/Connect My Hob Etc?
We do not have the facilities to connect any major plumbing or electrical work for customers, but we will happily recommend a local tradesman who can carry out both of these tasks if needed after installation. Worktops with integrated steel sinks can not be used as an inset, so separate taps need to be installed by us during the template visit before installation is completed to ensure that everything remains safe and fully functional at all times. As our templates are made from scratch using non-destructive methods, they won't take away from your kitchen space aesthetically like most form-fitted kitchens would, because there aren't any visible gaps anywhere on-site, which means they don't need to be removed before template visit. Worktop templates can usually take up to a week or so to complete because of the number of measurements and work involved for us to deliver 100% accurate results, but we will always try our best where possible. If your kitchen is already installed, this may not be an option due to time constraints etc.
Can i Order a Samplehow Much Does It Cost To Replace Kitchen Worktops Of The Materials?
The cost of replacing a kitchen worktop depends on the type of worktop material you select, the size of worktop required and the configuration of your kitchen. We expand on this subject in this article on worktop replacement costs and provide good guidelines to help your decision.
I Am Just Replacing My Existing Worktops. Do They Have To Be Removed Before You Template?
If you are only replacing existing worktops, then they don't need to be removed. However, it is best practice that they are at least stripped of their existing sealant and loose fittings so we can make a perfect template during our visit without any mishaps or problems arising in the future.
Do I Need To Be There When You Template And Install It?
Yes-because we have a very strict process that ensures everything is done correctly the first time around, it's essential for us (and our customers) that all steps of the installation are taken seriously. We offer free on-site measurements in Wakefield to get an accurate idea of what size worktops you want to be fitted into your home. This way, there should be no surprises later down the line when they're being delivered or installed at your property. This also means we can advise you about sizes and whether something else would look better instead, if necessary, after looking around inside your kitchen space.
What Are The Maximum Worktop Lengths?
The maximum lengths of worktops available are 110 cm, 120 cm and 130 cm.
Schedule An Appointment
Or Get an Instant Quote
Visit Us
Wakefield, United Kingdom
Message Us
hello@kitchenworktopswakefield.co.uk